Orientation at just the right time
Freiburg Research Services offers post-doctoral students an expanded program in the summer semester of 2017
Freiburg, Jun 19, 2017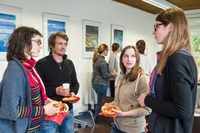 Photo: Klaus Polkowski
The Freiburg Research Services (FRS) of the University of Freiburg is expanding its program for post-doctoral students. Currently, more than 20 activities are planned for the summer semester of 2017. All are free of charge.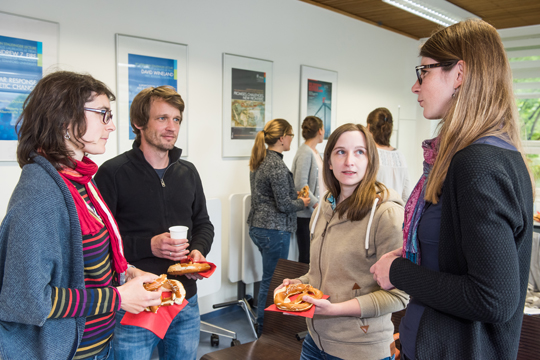 Enjoying lunch while learning: The new "brown bag" event format brings junior researchers together in a relaxed atmosphere while presenting topics about a research career path. Photo: Klaus Polkowski
For many new post-doctoral students, it is a time of unclarity: Should they pursue a career in research, or perhaps leave academe for private industry? The aim of the new program is to provide young researchers with orientation in the critical phase after they have received their degrees. "We've taken a look at where there's need," says Julia Michael of the FRS. "We would like to help postdocs to develop an awareness of their own potential in order to reach good decisions," she says.
Individualized coaching
There is something in the program for everyone, whether it is assessing potential or workshops about establishing networks and beyond to activities addressing academic and non-academic career paths. Even the needs of experienced postdocs have been considered. There are sessions, for example, that cover making offers, provide advice on applying for third-party funding, and how to manage research projects or project staff. Some of the workshops last two days. Otherwise, the emphasis is on shorter formats. "Postdocs don't tent do have a lot of time. That's why we're ensuring that the quality of the offering is really suitable," says Michael. The team wanted to present events that left participants saying afterwards, "That really took me a step further."
The team at FRS cooperated with a variety of trainers, some of them from private business, in developing the workshops. "What's particularly important to us is that they have already had experience in a university context," explains Michael. Among the novelties this summer semester are individual coaching sessions. Michael says the demand for these is very high and that registrations came in one after the other. "With the help of professional coaches, we would like to offer postdocs an opportunity reflect on career plans as well as important decisions with respect to their further professional development, or to gain some clarity regarding their own priorities," Michael elaborates.
The postdocs are welcoming the opportunities the program provides, and the FRS team has made it their priority to continually fine tune and expand the offering. "It's all very well organized. Registration is fairly simple and group size – about twelve participants -- is really nice," says Julia Binkenstein, who for nearly a year has been a post-doctoral student at the Institute for Nature Conservation and Landscape Preservation. "I'm trying to take part in all of it, because it's free of charge and of top quality. The consultants are professionals through and through." There's great interest in some of the topics, especially to do with things you need in your career, like executive level management or the basics of business administration. "Those are all topics that you're not confronted with when you're sitting in an ivory tower," says Arun D'Souza, a post-doctoral student at the Institute of Psychology He's convinced that the offering is expanding his "own horizon for the world beyond the university."
And in order to meet the needs of postdocs who are parents, FRS is cooperating with the university's Family Services Office. Financial support is being provided for child care during the events and activities.
Lars Kirchberg
Qualification Postdocs
www.frs.uni-freiburg.de/kurse_postdocs-en