"Do I want to study and if so, what?"
Six Freiburg institutions of higher learning provide information about study choices and offerings on October 6, 2017
Freiburg, Sep 25, 2017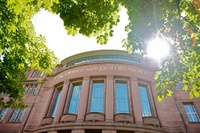 Photo: Peter Mesenholl
Medicine, social education, music, law – or something completely different? The 3rd Freiburg College Day offers junior and senior high school students an opportunity to ask any and all questions regarding a possible course of study. Six institutions of higher learning with a total of 70 events will provide information about study choices, semesters abroad or scholarships while presenting their particular range of subjects.
What: 3rd Freiburg College Day


When: October 6, 2017, 2:30 to 6:30pm


Where:
Rotteck-Gymnasium
Lessingstraße 16
79100 Freiburg


The College Day is designed for high school juniors and seniors.


Host: University of Freiburg in cooperation with the Protestant University of Applied Sciences Freiburg, the University of Arts, Design and Popular Music, the University of Music, the Catholic University of Applied Sciences Freiburg and the University of Education in Freiburg


Contact: Dr. Dennis Mocigemba, Tel.: + 49 (0) 761/203-4464


Pre-registration online is required at https://freiburger-hochschultag.de. Registration is currently open and runs until October 4, 2017.


The event is free of admission.


The event will be held in German.