500 Years of Reformation
Conference on the "Diversity of the Reformation – Diversity in the political concepts of order" on June 23-24, 2017
Freiburg, Jun 13, 2017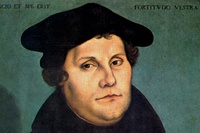 Source: The Bridgeman Art Library/Wikimedia Commons
The Reformation in Germany, France, England or Switzerland illustrated in at-a-glance segments: In the year of Luther 2017, a conference open to the general public at the University of Freiburg illuminates under which political conditions the various reformations took place, how the Reformation changed and shaped the political order and political culture and which factors were significant for its success or failure.


What: Conference


What: June 23,2017, 2:15pm until June 24, 2017, 11:30am


Where:
Haus "Zur Lieben Hand"
Großer Saal (Large hall)
Löwenstraße 16
79098 Freiburg


The event is open to the general public.


Host: Historic Seminar, France Center (Frankreich-Zentrum)


Contact information: Private lecturer Dr. Isabelle Deflers, Tel. + 49 (0) 761/203-3440


The registration is free of admission.


No registration is required.


The lectures will be held in German and English (the lecture by Mark Greengrass on Saturday morning).