A cabinet for listening and amazement
Exhibit opening with a presentation of new audio guides in the Uniseum on January 22, 2019
Freiburg, Jan 15, 2019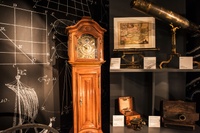 Photo: Klaus Polkowski
In the "Cabinet of Amazement", the Uniseum will present selected exhibits from the fields of art, culture and science to provide an insight into the diversity of university teaching and exhibition collections over the last two centuries. Students from various faculties have developed an audio guide for the exhibition in a teaching project that was supported by the "Projektwettbewerb: Innovatives Studium 2018" (Project Competition: Innovative Studies 2018) from the University of Freiburg student government. For the first time, background information on the individual exhibits can now be called up individually, enabling a deeper understanding of the cabinet for visitors. The audio guide will be presented at the event on January 22, 2019.

What: Exhibit opening


When: January 22, 2019, 7pm


Where:
Uniseum Freiburg
Bertoldstraße 17
79085 Freiburg


The event is open to the general public.


Host: Uniseum Freiburg


Contact information: Angela Witt-Meral, + 49 (0) 761/203-3835


No registration is required.


The event is free of admission.


The event will be held in German.