A Long Night at the University
Nine lectures and discussion in a single night chock full of academic exploration on November 14, 2019
Freiburg, Nov 05, 2019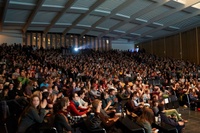 Photo: A Long Night at the University
Once again this year students from Freiburg invite you to the Long Night at the University. The event has long since become an integral part of every winter semester and has begun to attract more and more students to the University. Every year, students from different faculties come together and organize a night full of academic discussion and interesting activities. The speakers give 45-minute lectures on current topics from their fields of research. Visitors can also listen to the biologist choir "Contrappunto bestiale" or discuss with the researchers in the foyer after the lectures.
What: Lectures, discussions and music


When: November 14, 2019, 6:30pm


Where:
Audimax
Collegiate Building II
Platz der Alten Synagoge 1
79098 Freiburg


The event is open to the general public.


Host: Studium Generale
Contact information:  Eva Steil, Tel. 0761/203-2004


No registration is required.


The event is free of admission.


The event will be held in German.