A look at interaction-oriented school research
Conference "Discursive fits in the school environment" at the University of Freiburg on November 2-3, 2017
Freiburg, Oct 24, 2017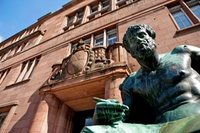 Photo: Peter Mesenholl
The international and interdisciplinary conference "Discursive fits in the school environment" offers insights into the current interaction-oriented school research. Scholars working in language analysis and ethnography will present and discuss their findings. The goal of the conference is to show that, along with learning and teaching, the school space with its complex institutional and communicative conditions are critical to educational success. The purpose is to create a much deeper awareness about this approach in educational sciences than has been the previous case in exploring academic contexts.
What: Conference


When: November 2, 2017, 9am until November 3, 2017, 5:30pm


Where:
House "Zur Lieben Hand"
Large hall
Löwenstraße 16
79098 Freiburg


The event is open to the general public.


Host: Professorship for German Linguistics, Concentration German as a Foreign Language, and Hermann Paul Centre for Linguistics; with support from the German Research Foundation (DFG)


Contact information: Prof. Dr. Helga Kotthoff, Tel.: + 49 (0) 761/203-97868


No registration is required to attend individual presentations. If you would like to attend more than three presentations, however, please register via e-Mail to Falko Röhrs.


The event is free of admission; however, 20 euros are required to cover the coffee breaks.


The event will be held in German.