A matter of perspective
An exhibit in the archaeological collection will be extended to July 23, 2017
Freiburg, Jul 04, 2017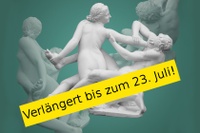 Telling sculptures how they should be observed: for anyone who wishes to discover something worth seeing, they must often change their perspective and select the right view of things so the figures can have an effect. Such is the visual purpose of the special exhibit "Ansichtssache" ("A matter of perspective") in the archaeological collection at the University of Freiburg whose duration has been extended for an additional three weeks.
What: Exhibit


When:
Until July 23, 2017 every Tuesday through Thursday from 2pm-6pm as well as Sundays from 11am-5pm. Guided tours are available Sundays at 2pm and by appointment.


Where:
Archaeological collection at the University of Freiburg
Herderbau
Habsburger Straße 114
79106 Freiburg


Vernissage and exhibit are open to the general public


Contact information: Dr. Jens-Arne Dickmann, Tel.: +49 (0) 761/203-3107


Pre-registration is not required.


The event is free of admission.


All information is in German.