Academia meets Industry
Ingmar Hoerr will hold a talk in the lecture hall at Otto Krayer Haus at the University of Freiburg on January 28, 2019
Freiburg, Jan 22, 2019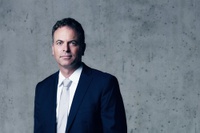 Ingmar Hoerr. Photo: Matthias Baus Photographie
Dr. Ingmar Hoerr, Chairman of the Supervisory Board for CureVac AG in Tübingen, will be speaking in the seminar series "Academia meets Industry - A Political-Scientific Discussion" about "RNA, 3D Printing and Mass Data: Not a vision but reality." His company is regarded as a market leader in the research and development of mRNA-based active ingredients. mRNA are copies of DNA genes that serve as instructions for the construction of proteins. Dr. Helmut Laaff from TPL Pathology Labs, Freiburg, will lead the subsequent panel discussion. The aim of the series is to bring the University into interdisciplinary dialogue with high-ranking guest speakers from industry and public health organizations and to facilitate a dialogue on the opportunities and risks of current and future developments in the life sciences.
What: Lecture


When: January 28, 2019, 5pm


Where:
Otto Krayer Haus
Lecture hall (ground floor)
Albertstraße 25
79104 Freiburg
Media members are warmly invited to attend.


Hosts: Spemann Graduate School of Biology and Medicine, University College Freiburg,  Institute of Pharmaceutical Sciences, Kinapse, London, TPL Path Labs, Freiburg, Research Training Group "Transport across and into membranes," Research Training Group "Cofactors,"  Deutsch-Französische Hochschule (Franco-German University) , Department of Microsystems Engineering  (IMTEK)


Contact information: Prof. Dr. Christoph Borner , Tel.: +49 (0)761/203-9618 (direct line), +49 (0)761/203-9624 (office)


No registration is required.


The lecture will be held in English.