Anniversary concert
To celebrate the end of the winter semester, the University choir will sing Misa a Buenos Aires on January 27, 2018
Freiburg, Jan 16, 2018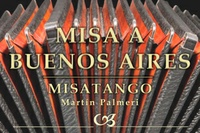 Misa a Buenos Aires, also known as Misa Tango, by the Argentinian composer Martín Palmeri brings together the rhythms of Tango Nuevo with the words spoken during Holy Mass. The piece was premiered in 1996 and now belongs to the fixed repertoire of many choirs worldwide. To celebrate its tenth anniversary, the university choir will perform the Mass under the direction of church music lecturer Eduard Wagner. The choir will be supported by the tango orchestra "Brisas del Sur" and the mezzo-soprano Ayano Matsui from the Stadttheater Gießen.
What: Concert


When: January 27, 2018, 7:30pm


Where:
Collegiate Building II
Audimax
Platz der Alten Synagoge 1
79098 Freiburg


The event is open to the general public.


Contact information: Eduard Wagner


No registration is required.


The event is free of admission.