Career connections
The association "Contact&Connect" will hold its second Career Day in Freiburg on June 4, 2019
Freiburg, May 21, 2019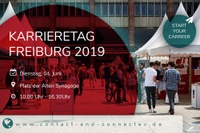 How do you manage to gain a professional foothold after graduating? What are the opportunities offered by the various disciplines? Many students ask themselves these precise questions during their studies. Answers to these questions can be found at the Career Day in Freiburg: Organized for the second time by the association "Contact&Connect", the career fair provides 33 employers from various industries to introduce themselves to the public. The aim of the event is to promote career opportunities by intensifying contacts between students and companies and linking the two groups more closely. The Career Day will be rounded off by an extensive supporting program consisting of a presentation by the Google Future Workshop, free job application pictures, the possibility of a free job application folder check and a free job application haircut from a barbershop.
What: Career fair


When: June 4, 2019, 10 am – 4:30pm


Where:               
Platz der Alten Synagoge
79098 Freiburg


The event is geared toward students, university graduates and young professionals.


Host: Contact&Connect e.V. in cooperation with the group Freiburger Wirtschaftswissenschaftler (Freiburg economists)


Contact information: Tristan Müller, Tel: 0152/34291001; Alexander Bierer, Tel: 0174/1987769



No registration is required.


Participation is free of charge.


The event will be held in German.