Celebrating the Deutschlandstipendium
Festive award ceremony for the scholarship recipients and their sponsors on October 22, 2019
Freiburg, Oct 08, 2019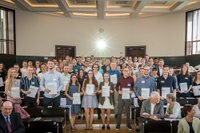 Scholarship recipients of the Deutschlandstipendium for the 2018/2019 academic year. Photo: Jonas Conklin
150 students at the University of Freiburg will receive a Deutschlandstipendium (German scholarship) in the academic year 2019/20 - but the opportunities within this program offered by the Federal Ministry of Education and Research have not yet been exhausted. The scholarship celebration is therefore intended to contribute to the further development of the German scholarship at the University of Freiburg. At the event, the university will honor the scholarship recipients and their sponsors, thereby connecting them. The keynote will be given by Marianne Haardt, Director of the Stiftungsverwaltung Freiburg (Freiburg Foundation Administration) who supports the Deutschlandstipendium at the University of Freiburg.
What: Scholarship award ceremony


When: October 22, 2019, 4pm


Where:
Collegiate Building I
Aula
Platz der Universität 3
79098 Freiburg


Members of the media are warmly invited to attend.


Host: Rectorate


Contact information and registration: Tanja Ratzke, Tel. + 49 (0) 761/203-67729


The event will be held in German.