Dies Universitatis (University Day)
The University of Freiburg honors exception personalists in May 31, 2017
Freiburg, May 22, 2017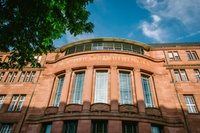 Photo: Sandra Meyndt
For Dies Universitatis 2017 Rector Prof. Dr. Hans-Jochen Schiewer will honor two exceptional personalities who have rendered outstanding services to the University of Freiburg with the University medal. In addition, the award recipients for the curriculum development prize Instructional Development Award, the ""Project Competition: Innovative Education" and the Bertha Ottenstein Prize for exceptional performance in the area of equality will be honored. Prof. Dr. Andreas Urs Sommer, the chair for philosophy with a concentration on cultural philosophy, will hold a ceremonious address on "Cultural Philosophy Today?".
What: Dies Universitatis


When: May 31, 2017, 7:15pm


Where:
Collegiate Building I
Aula
Platz der Universität 3
79098 Freiburg


The event is open to the general public.


Host: Unviersity of Freiburg, Rektor Prof. Dr. Hans-Jochen Schiewer


Contact information: Gregor Kroschel, Tel.: + 49 (0) 761/203-4986


No registration is required.


Free admission.


The presentation will be held in German.