Drinking water and pesticides
An open colloquium in honor of World Water Day on March 20, 2018
Freiburg, Mar 06, 2018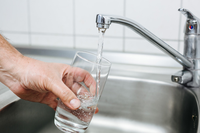 Photo: Sandra Meyndt
Drinking water is a product of nature – but for how much longer? Will pesticides such as glyphosate endanger future generations? In honor of World Water Day 2018 experts will report on what science, industry, water authorities, municipal utility companies and all citizens can do to help reduce the input of pesticides into water.
What: Brief talks and a podium discussion


When: March 20, 2018, 5pm


Where: 
SWR Studio Freiburg
Schlossbergsaal
Kartäuserstraße 45
79102 Freiburg


The event is open to the general public.


Host: Chair of Hydrology, SWR, the city of Freiburg, badenova, Regional Council Freiburg, Regiowasser


Contact information: Prof. Dr. Markus Weiler, Tel. +49 (0) 761/ 203-3530 or -3535


No registration is required.


The event is free of admission.


The event will be held in German.