Ecological challenges, political answers
Lecture by S. E. Arif Havas Oegroseno, ambassor for the Republic of Indonesia, on May 27, 2019
Freiburg, May 20, 2019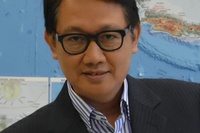 Photo: Republic of Indonesia Embassy
"Indonesia's Environmental Challenges: Policy Response – Climate and Energy Management" is the name of the lecture that S. E. Arif Havas Oegroseno, ambassador for the Republic of Indonesia in the Federal Republic of Germany will give at the University of Freiburg.  In his political and diplomatic career spanning thirty years, the alumnus from Harvard Law School in the US has been ambassador in Belgium, Luxemburg and the European Union as well as the head of the Office of the Deputy Minister for Maritime Sovereignty, Indonesia.
What: Lecture


When: May 27, 2019, 8:15 pm


Where:              
Collegiate Building I
Lecture hall 1199            
Platz der Universität 3
79098 Freiburg


The event is open to the general public.
Contact information: Dr. Arndt Michael, Tel.: +49 (0) 761/203-2001


No registration is required.


The event is free of admission.


The event will be held in English.