Erasmus Prize for the Liberal Arts and Sciences
The University College Freiburg awards excellent research papers on June 6, 2018
Freiburg, May 30, 2018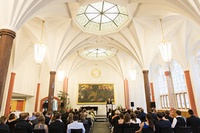 Photo: University College Freiburg
A first for the Erasmus Prize for the Liberal Arts and Sciences: The University College Freiburg (UCF) has announced this year's award for the first time in two categories - one for bachelor's and master's theses, a second for PhD and habilitation dissertations. The Erasmus Prize board of trustees revealed another surprise: This year, two bachelor's theses will be awarded by graduates of the Liberal Arts and Sciences - one from University College Amsterdam, Netherlands and one from UCF. The award honors works whose theme is treated in a particularly exemplary manner from the perspective of historical science and epistemology, and which contribute to methodological and theoretical exchange across disciplines. Endowed with 5,000 euros, the prize is donated by the Sparkasse Freiburg-Nördlicher Breisgau. The ceremonial speech at the ceremony will be given by Prof. Dr. Jürgen Mittelstraß, Director of the Konstanz Science Forum, on the topic "Cheerful Science? Science and University between ideals of cognition and realization."
What: Award ceremony


When: June 6, 2018, 7:30pm


Where:
Sparkasse Freiburg-Nördlicher Breisgau
Meckelhalle
Kaiser-Joseph-Straße 186-190
79098 Freiburg


The event is open to the general public.


Contact information and registration: Caroline Wacker, Tel.:  + 49 (0) 761/203-4435


Registration is required.


The event is free of admission.


The event will be held in German.