Europe has voted
Panel discussion about the European election results 2019 on May 27, 2019
Freiburg, May 14, 2019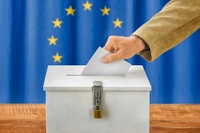 Photo: Zerbor – www.stock.adobe.com
The election for the European Parliament is over - now we have to work through the results: Who won the election? Who is the loser? How did which groups of voters decide? What alliances will form in Parliament? Dr. Marcus Obrecht from the Department of Political Science at the University of Freiburg and Dr. Isabelle Guinaudeau from the Centre Emile Durkheim des Sciences Po Bordeaux, France, will analyze the outcome from a German-French perspective. Together with the audience, they will then discuss possible scenarios that will shape future political and social life in the European Union.
Contact information: Dr. Barbara Schmitz, Tel.: +49 (0) 761 / 203-2008


No registration is required.


The event is free of admission.


The event will be held in German.