Evening ambiance
To celebrate the end of the semester the University choir will present worldly and spiritual music July 21-22, 2017
Freiburg, Jul 11, 2017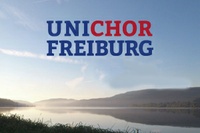 Photo: University choir Freiburg
After performing Carl Orff's Carmina Burana last semester, the University choir Freiburg will sing a cappella choir music under the motto "evening ambiance". Under Eduard Wagner's direction, the singers will present, among other things, works by Johannes Brahms, Josef Rheinberger and Felix Mendelssohn Bartholdy. The choir will be accompanied by soprano singer Alies Mack and former University choir director and current district choirmaster Christian Drengk on the organ. In addition, the choir director Eduard Wagner will not only perform as a conductor, but also a singer.
What: Concert


When/Where:
July 21, 2017, 8pm
University church Freiburg
Bertoldstraße 17
79098 Freiburg

July 22, 2017, 7pm
Seminary church in the Collegium Borromaeum
Schoferstraße 1
79098 Freiburg


The event is open to the general public.


Contact information: Eduard Wagner


No pre-registration is required.


The event is free of admission.