Founders regulars' table meets First Tuesday
Martin Preusse, whose company focuses on the interface between IT and medicine, will be the guest speaker on October 1, 2019
Freiburg, Sep 17, 2019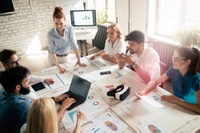 Photo: nd3000 / stock.adobe.com
As part of the format for founders, interested parties and digital creators, the bwcon business initiative and the University of Freiburg's Founders Office have invited Dr. Martin Preusse. He co-founded a spin-off from Helmholtz Zentrum München in 2016 and founded a new company in Freiburg in 2019. Preusse develops data analysis software for biomedical research. On October 1, he will talk about the ups and downs on his path from scientist to founder, including the problems of having a spin-off at the university, funding and pre-seed funding, finding one's own way, team-building and understanding customer and investor needs.
What: Lecture and discussion


When: October 1, 2019, 7pm


Where:
Grünhof
Belfortstraße 52
79098 Freiburg


The event is geared toward founders, those interested in founding a company and digital creators.


Host: Founders Office at the University of Freiburg and the business initiative bwcon; cooperation partner: DIGIHUB Südbaden


Contact information: Fabian Reiß, Telefon: +49 (0) 761/203-5203


No registration is required.


The event is free of admission.


The event will be held in German.