Fragments of memory
Vernissage for artistic intervention in public spaces on October 21, 2017. A discussion with the artist on October 25, 2017
Freiburg, Oct 17, 2017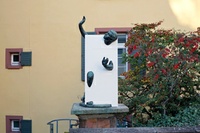 Photo: Igor Ponosov
In his Freiburg sculpture project the artist Igor Ponosov from Moscow, Russia visualizes the long struggle between avant-garde and classical forms that formed art in the Soviet Union: Although the classical forms dominated the 1920s, avant-garde elements kept appearing in socialist realism. Ponosov illustrates it by confronting existing sculptures in public spaces – such as "Homer" in at the entrance to the Collegiate Building I at the University – with geometric forms. The altered sculptures can be seen during "Russian Culture Days 2017" in Freiburg.  
What: Vernissage and artist discussion


When & Where:


Vernissage:
Artist discussion:
October 21, 2017, 4pm
Ocotber 25, 2017, 6pm
Collegiate Building I
Entrance near the Homer and Aristotle monuments
Platz der Universität 3
79098 Freiburg
University for Art, Design and Popular Media Freiburg
Haslacher Straße 15
79115 Freiburg

The event is open to the general public.


Host: Zwetajewa-Zentrum


Contact information: Prof. Dr. Elisabeth Cheauré, + 49 (0) 761/203-8320


The event is free of admission.


No registration is required.


The event will be held in German.