From topic to text
Class for students on writing academic papers at the University library on February 21, 2018
Freiburg, Feb 12, 2018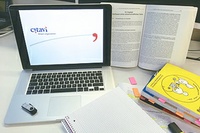 Photo: Medienzentrum
The lecture-free period is fast approaching – and with it the intense phase of writing papers and theses. For those who require support, they are warmly welcome to be inspired, motivated and counseled through a program that includes lectures, workshops and individual appointments with research specialist and writing counselors.
What: Class for students on writing academic papers
 
When: February 21, 2018, 4pm-8pm
 
Where:
University library Freiburg
Platz der Universität 2
79098 Freiburg
 
The event is designed for students in all fields and universities.
 
Host: University library in cooperation with the writing center at the University of Education Freiburg


Contact information: Kerstin Stelzer, Phone: + 49 (0) 761/203-96730
 
Students who would like individual counseling should register online by February 20, 2018. No registration is required for the lectures and workshops in the event hall or for the info-point for the reference management program Citavi.
 
The event is free of admission.


The event will be held in German.