Gender gap in wealth accumulation in Ghana
Lecture by Abena D. Oduro, University of Ghana, on July 2, 2019 in the series "Freiburger Afrikagespräche" (Freiburg Africa Talks)
Freiburg, Jun 18, 2019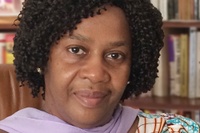 Prof. Abena D. Oduro. Photo: privat
In her lecture in the series "Freiburger Afrikagespräche" the economist Prof. Abena D. Oduro from the University of Ghana, Legon (Accra), shows the gender gap that exists with regard to the possession of material and symbolic resources in Ghana. She discusses the importance of marriage and inheritance for the distribution of these resources and shows at which levels the existing imbalance influences the lives of women in Ghana. Oduro is Director of the Merian Institute for Advanced Studies in Africa (MIASA), headquartered at the University of Ghana. The University of Freiburg along with the Freiburg Institute for Advanced Studies (FRIAS) and the Arnold Bergstraesser Institute (ABI) is in charge of setting up and coordinating the international research college.
What: Lecture


When: July 2, 2019, 6:30pm


Where:
Haus "Zur Lieben Hand"
Großer Saal      
Löwenstraße 16
79098 Freiburg


The event is open to the general public.


Host: Colloquium politicum in cooperation with the Arnold Bergstraesser Institute


Contact information: Dr. Arndt Michael, Tel.: +49 (0) 761/203-2001


No registration is required.


The event is free of admission.


The lecture will be held in English.