Here comes the mouse
The Life Imaging Center at the University of Freiburg provides children an inside look into the day in the life of a scientist on October 3, 2019
Freiburg, Sep 25, 2019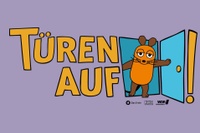 On October 3, 2019, institutions all over Germany will open their doors in order to playfully introduce children to the often complex everyday work of adults. The Life Imaging Center (LIC) at the University of Freiburg is also open to young researchers. Within one hour, children and parents are given an insight into the daily work of a scientific institution. For example, they have the opportunity to take a look at different living specimens under a microscope in the laboratories.

What: Open House with "Sendung mit der Maus" ("Broadcast with the mouse")


When:  October 3, 2019 from 9am-4pm, each tour starting on the hour and lasting 60 minutes


Where:               
Life Imaging Center (LIC)
Habsburgerstraße 49
79104 Freiburg im Breisgau


Members of the media are warmly invited to attend. The event is already completely booked for visitors.


Host: LIC, Westdeutscher Rundfunk


Contact information LIC: Sibylle Bartsch, Tel.: +49 (0) 761/203-97132


Media contact "Die Sendung mit der Maus" / "Türen auf!": Lena Schmitz, Tel.: +49 (0) 221/220-7121


Registration via e-mail is required sibylle.bartsch@zbsa.uni-freiburg.de

The event will be held in German.