Imitatio Christi
Conference from May 30 – June 1, 2019 examines the imitation of Jesus in the Early Modern Period
Freiburg, May 20, 2019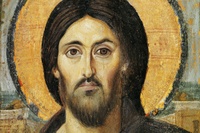 Christus Pantokrator. Source: Katharinenkloster Sinai
The heroization and contemplation of Jesus Christ as a suffering, painful victor was meaningful for stagings and political interpretations. The conference "Christ as Hero and His Heroic Succession - To the imitatio of Christ in the Early Modern Period" pays special attention to the phenomenon that the faithful in the imitatio of Christ not only found a way to imitate Christ, but could themselves become Christian fighters for their hero. Lecturers from fields such as history, theology and German studies will look at and analyze sources from the early modern period, including Late Antiquity and the Middle Ages.
Participation is free of charge.


The event will be held in German.