Is the 2030 agenda too ambitious?
Podium discussion about U.N. development goals on May 9, 2019
Freiburg, May 07, 2019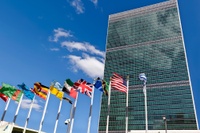 UN Headquarters in New York, New York, USA. Foto: bluraz – stock.adobe.com
Human rights, climate protection, peace, the eradication of poverty and hunger: The 17 "Sustainable Development Goals" adopted by the member states of the United Nations in 2015 demand considerable efforts from all UN member states for the period up to 2030. But are the demands of the "2030 Agenda" at all affordable in such different areas at the same time - or are the sustainability goals, themselves differentiated into 169 individual goals, too ambitious? Prof. Dr. Ernst-Ulrich von Weizsäcker, Co-President of the Club of Rome from 2012 to 2018, Hans-Christof Graf von Sponeck, UN diplomat from 1968 to 2000, and Elise Zerrath, UN sustainability expert, will discuss this issue. The moderator is Dr. Ekkehard Griep, Deputy Federal Chairman of the United Nations Society of Germany (DGVN).
What: Podium discussion


When: May 9, 2019, 8:15pm


Where:
Collegiate Building I
Lecture hall 1199
Platz der Universität 3
79098 Freiburg


The event is open to the general public.


Host: Colloquium politicum in cooperation with the United Nations Society of Germany (DGVN) and the Landeszentrale für politische Bildung Freiburg (State Office of Civic Education Freiburg)


Contact information: Dr. Arndt Michael, Tel.: +49 (0) 761/203-2001


No registration is required.


The event is free of admission.


The event will be held in German.