Legal perspectives on Brexit
On June 6, 2019, legal scholars will shed light on the effects of the possible withdrawal of Great Britain from the European Union.
Freiburg, May 28, 2019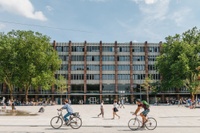 Photo: Sandra Meyndt
How would a possible withdrawal of Great Britain from the European Union (EU) affect the European institutions on the one hand and the constitution and politics in the United Kingdom on the other? What fundamental difficulties would it pose to reverse the country's current level of integration into the EU? What are the administrative challenges facing Britain's neighbors? These questions and more will be explored in a panel discussion with international legal experts. The event is part of a conference to mark the tenth anniversary of the Research Network on EU Administrative Law (ReNEUAL), which focuses on the development of European administrative law.
What: Panel discussion with Prof. Dr. Paul Craig, Oxford University, England, Prof. Dr. Deidre Curtin, European University Institute Florence, Italy, and Prof. Dr. Jacques Ziller, University of Pavia, Italy


When: June 5, 2019, 8pm


Where:
Collegiate Building I
Lecture hall 1015
Platz der Universität 3
79098 Freiburg


The event is open to the general public.


Host: Chair of Public Law with European Administrative, Information and Infrastructure Law


Contact information: Prof. Dr. Jens-Peter Schneider, Tel.: + 49 (0) 761/203-97731


No registration is required.


The event is free of admission.


The event will be held in English.