Masterpieces on 35 millimeters
The Academic Film Club at the University of Freiburg will be celebrating its 60th anniversary with a film festival and exhibit from November 21-24, 2017
Freiburg, Nov 14, 2017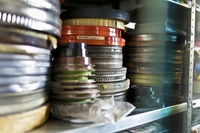 Photo: Jürgen Gocke
In honor of its 60th anniversary, the Academic Film Club at the University of Freiburg e.V., aka Film Club for short, is putting on a film festival. It is bringing to the screen three masterpieces from the Technicolor era, which is celebrating its centennial this year. The film historian Gert Koshofer will open the series with a lecture about Technicolor. In addition, the club's first film series, a work exhibition by the film director Fritz Lang, will be dusted off. His film Metropolis will be set to music by Freiburg's silent film musician Günter A. Buchwald during a showing on November 21, 2017. The anniversary week will close with the opening of the exhibit "60 Years oof the aka Film Club – A Behind-the-Scenes Look" in the Uniseum Freiburg, which will showcase the student-based cinematic work of the past decades. The exhibit will be open until February 10, 2018.  
What: Film festival and exhibit


When and where:


Film showings
Exhibit opening
November 21-24, 2017, 8pm
November 25, 2017, 3pm
Collegiate building II
Lecture hall 2006
Platz der Alten Synagoge 1
79098 Freiburg

Uniseum Freiburg
Bertoldstraße 17
79085 Freiburg

 
The event is open to the general public.



Contact information: Johannes Litschel


No registration is required.


Admission to the film showing is 1,50 euros including a membership card for 3,00 euros that must be purchased one time only. There is no entrance fee for the exhibit.


The lecture will be held in German.