Musicals on the amateur stage
Annual meeting of the German musical archive on March 9-10, 2018
Freiburg, Feb 26, 2018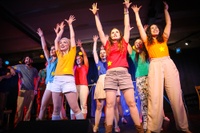 Mondo, the music theater group of the Studierendenwerk Freiburg, has developed the piece "Café Europa" by itself for the 2017/18 season. Photo: Rahel Locher/Studierendenwerk Freiburg-Schwarzwald
The premiere of CATS on April 18, 1986 in Hamburg marks the beginning of a new German musical culture. As a result musical productions by amateur ensembles have flooded the amateur stage: Broadway and West End hits, special children's youth and school musicals as well as a growing number of creative house productions. The annual meeting 2018 of friends and patrons of the German musical archive will take a closer look at the phenomenon "Musicals on the amateur stage": Among other things, it addresses the origins of culture and social history and reports from the field under which conditions amateur cultural musical productions can succeed.


What: Conference


When: March 9, 2018, 2pm until March 10, 2018 at 2pm.  


Where:


Carl-Schurz-Haus Freiburg

 
Eisenbahnstraße 62
79098 Freiburg


The event is open to the general public.


Host: Center for Popular Culture and Music, friends and patrons of the German musical archive


Contact information: Dr. Dr. Michael Fischer, +49 (0) 761/ 7050315


No registration is required.


The event is free of admission.


The event will be held in German.