Protecting the ground water
On June 4, 2019, scientists from Freiburg, Strasbourg, Koblenz-Landau and Lüneburg will present how they hope to reduce biocide inputs in the Upper Rhine region in the long term.
Freiburg, May 28, 2019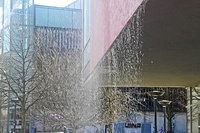 Photo: NAVEBGO
Biocides are used on building facades to protect against algae and fungal attack. From there they enter the urban water cycle and ultimately the groundwater. In the NAVEBGO project ("A strategy for the sustainable reduction of biocide inputs into the groundwater of the Upper Rhine"), scientists led by Prof. Dr. Jens Lange are developing proposals on how this biocide input can be sustainably reduced in the Upper Rhine region. At the kick-off event, the project partners from the disciplines ecotoxicology, environmental chemistry, sociology, hydrology and geoinformatics will report on the aims of the project.
What: Kick-off event


When: June 4, 2019


Where:
Collegiate Building I
Aula
Platz der Universität 3
79098 Freiburg


The event is open to the general public.


Host: Hydrological Chairs


Contact information: Marcus Bork, 0761/203-67434


No registration is required.


The event is free of admission.


The event will be held in German and French.