Reaching decisions
40th Freiburg winter colloquium Forest and World on Janaury 30-31, 2020
Freiburg, Jan 21, 2020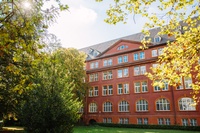 Photo: Sandra Meyndt
Every day decisions are made,whether in politics, in companies or in the private sector.
People in the forestry and timber industry in particular have to face complex questions with long-term effects. But how do decisions arise in this area, and who is involved? How do they deal with uncertainties and the complexity of questions in the decision-making process? On January 30-31, 2020, the 40th Winter Colloquium on Forestry and Wood, which has been organized by the Faculty of Environment and Natural Resources at the University of Freiburg since 1975, will approach these questions from a multidisciplinary perspective. Examples from the field, political aspects and scientific expertise will be presented. Decision-makers from companies, administration, politics and interest groups will discuss forest and timber industry topics together with researchers and students.
What: Lectures and discussion


When: January 30, 2010, starting at 2pm and January 31, 2020, starting at 9am


Where:  Paulussaal, Dreisamstraße 3, 79098 Freiburg


The event is geared toward journalists.


Hosts:
Chairs of Forest Operations, Forest Biomaterials, Forest Economics and Forest Planning, Forest and Environmental Policy, Environmental Governance


Contact information: Beate Albrecht, Tel.: +49 (0)761 /203-37 64


The event will be held in German.