Responsible artificial intelligence
Kick-off event on October 23, 2018 for the 2018/2019 research group at the Freiburg Institute for Advanced Studies
Freiburg, Oct 18, 2018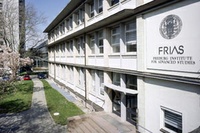 Photo: Guido Kirsch
Based on the rapid progress made in the collection of huge amounts of data (big data) and their analysis using modern methods of machine learning, intelligent systems have led to rapid and comprehensive changes in social sectors such as science, mobility or healthcare. In the 2018/19 research group at the Freiburg Institute for Advanced Studies (FRIAS), scientists from the University of Freiburg and the University Medical Center Freiburg are working together on the normative and philosophical foundations as well as ethical, legal and social challenges of human interaction with such intelligent systems. The participants are law professor Silja Vöneky, computer science and robotics professor Wolfram Burgard, neurotechnology and neuroscience professor Dr. Philipp Kellmeyer and philosophy professor Oliver Müller. At the kick-off event they will present their projects and offer a first opportunity to discuss questions and exchange ideas with the audience.
What: Lecture


When: October 23, 2018, 6pm, afterwards from 7-9pm a chat in the FRIAS-Lounge with snacks and drinks.


Where:
Freiburg Institute for Advanced Studies (FRIAS)
Lecture hall
Albertstraße 19
79104 Freiburg


The event is open to the general public.


Host: Freiburg Institute for Advanced Studies (FRIAS)


Contact information: Alison Sauer alison.sauer@frias.uni-freiburg.de



The event is free of admission.


No registration is required.


The event will be held in English.