Revolution party
"Russian disco" with the writer Wladimir Kaminer at the Mensabar on October 27, 2017
Freiburg, Oct 17, 2017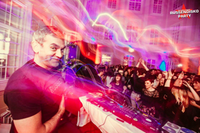 Source: Zwetajewa-Zentrum
A young Russian man in Berlin in the 1990s: "Russian disco" is the title of a collection of short stories with which Wladimir Kaminer became a bestselling author. In celebration of "Russian Culture Days 2017" he will be acting as DJ himself in the Mensabar – with a "Russian disco special" about revolution.
What: Disco


When: October 27, 2017, 10pm


Where:
Mensa Rempartstraße 
Mensabar
Rempartstraße 18
79098 Freiburg


The event is open to the general public.


Host: Zwetajewa-Zentrum with support from the student union Freiburg-Schwarzwald


Contact information: Prof. Dr. Elisabeth Cheauré, + 49 (0) 761/203-8320


Advanced tickets can be bought at Reservix 10 euros, reduced rate 6 euros and at the door for 12 euros, reduced rate 8 euros.