Silvicultural responses to climate change
"Freiburg Environmental Talks" regarding climate protection through forestry and the timber industry on February 20, 2019
Freiburg, Feb 12, 2019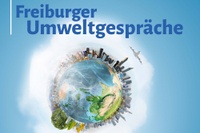 The "Freiburg Environmental Talks" series will be continued with two lectures on the question of what role the forestry and timber industry can play in climate protection: The forestry scientist Prof. Dr. Jürgen Bauhus from the Faculty of Environment and Natural Resources at the University of Freiburg will talk about "Climate protection through forestry and the timber industry", the architect Helmut Krapmeier from the University of Art in Linz, Austria will examine the topic "How much forest does a climate-neutral city need?" The event series is intended to provide up-to-date information to facilitate access to the topics of environmental protection, climate protection and climate change. In this way, the city and University want to support the discourse of urban society, science and local politics on environmental issues.
What: Lectures


When: February 20, 2019, 7pm


Where: Jazzhaus Freiburg
Schnewlinstraße 1
79098 Freiburg


The event is open to the general public.


Host: City of Freiburg, Faculty of Environment and Natural Resources


Contact information: Prof. Dr. Jürgen Bauhus, Tel.: +49 (0) 761/203-3677


No registration is required.


The event is free of admission.


The event will be held in German.