Simply stored away?
Vernissage for an exhibition organized by students in the Archaeological Collection on December 7, 2018
Freiburg, Nov 27, 2018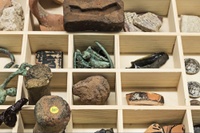 The exhibition "Simply stored away? Captivated by Old Things" deals with the fascination that material legacies of ancient cultures exert on today's viewers. On the basis of themes such as the composition of materials, colors, functions and production, it illuminates different perspectives on the objects and their effects. Students of archaeological sciences have planned and implemented the exhibition largely independently in cooperation with the Archaeological Collection.

What: Vernissage and exhibition  


When:
Vernissage: December 7, 2018, 7pm

Opening hours of the exhibition: 17.02.2019 Tuesday through Thursday 2-6pm and Sunday 11am-5pm until February 17, 2019. Guided tours are also possible outside the regular opening hours by arrangement.


Where:
Archaeological Collection at the University of Freiburg
Herderbau
Habsburger Straße 114
79106 Freiburg


Vernissage and exhibition are open to the general public.


Contact information:
Dr. Jens-Arne Dickmann, Tel.: +49 (0) 761/203-3107;
Dr. Eva-Maria Mohr, Tel.: +49 (0) 761/203-3074  


No registration is required.


The event is free of admission.


All information will be provided in German.