Some like it wet
On September 15, 2018, visitors to the Botanical Garden will learn all about water ponds
Freiburg, Sep 11, 2018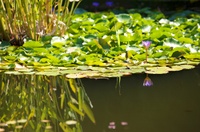 Photo: Peter Mesenholl
What tricks have plants and animals adapted to life on and in the water? This and many other questions about the lives of water dwellers will be answered by gardening director Dirk Rohleder during a guided tour of the water habitats within the Botanical Garden at the University of Freiburg. The tour focuses on the three lily ponds, one of which is heated. The ponds are the habitat of various aquatic plants as well as animals, including frogs, pond skaters and ducks.
What: tour


When: September 15, 2018, 2pm


Where:
Botanical Garden
Main entrance, Greenhouse
Schänzlestraße 1
79104 Freiburg


The event is open to the general public.


Host: Botanical Garden, Freunde & Förderer des Botanischen Gartens (Friends & Patrons of the Botanical Garden)


Contact information: Prof. Dr. Hanns-Heinz Kassemeyer, Tel.: +49 (0)761 40165-1407


No registration is required.


There is a contribution of 3 euros, which benefits the Botanical Garden. For children and adolescents up to the age of 16 as well as the members of the friends and supporters of the Botanical Garden, participation is free.


The tour will be held in German.