Ten years for the Freiburg Institute for Advanced Studies
The international research college at the University of Freiburg extends an invitation to celebrate its jubilee on June 29, 2018
Freiburg, Jun 19, 2018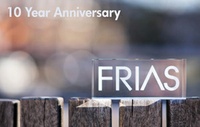 On April 1, 2008, the Freiburg Institute for Advanced Studies (FRIAS) opened its doors for the first time to renowned scientists from all over the world, who dedicated themselves to a first-class research project of their choice in Freiburg. This was followed by a decade of changing fellowships of many nationalities and multidisciplinary, diverse opportunities for inspirational exchange within the Freiburg research community. On June 29, 2018, the Institute celebrates its tenth anniversary ​​with speeches by Prof. Gunther Neuhaus, Vice Rector and Vice President for Research at the University of Freiburg, Prof. Björn Wittrock, Director of the Swedish Collegium for Advanced Study in Uppsala, former FRIAS director Prof. Dr. Werner Frick and Prof. Dr. Hermann Grabert and the current spokesman of the directorate Prof. Dr. Bernd Kortmann. In addition, Prof. Dr. Silja Vönkey and Prof. Dr. Philipp Kellmeyer on normative challenges of the interaction between humans and intelligent systems.
What: Jubilee


When: June 29, 2018, 2pm to 5pm


Where:
Anatomy Lecture Hall
Albertstr. 17
79104 Freiburg


The event is open to the public. The subsequent reception is only for University members and invited guests. Media members are welcome to attend as well.


Host: Freiburg Institute for Advanced Studies (FRIAS)


Contact information: Dr. Britta Küst, +49 (0) 761/203-97407


Registration is not required.


The event is free of admission.


The event will be held in English.