The hidden side of the universe
Lecture on the search for dark matter on June 4, 2019
Freiburg, May 21, 2019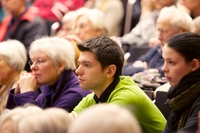 Photo: Baschi Bender
Dark matter is only noticeable in the universe through its gravity and yet occurs five times more frequently than previously known particles and atoms. However, the existence of dark matter has not yet been proven in the laboratory, and it is therefore not known what it consists of. From June 3-7, 2019, more than 130 physicists from four continents will meet at the University of Freiburg to discuss new findings on the nature of dark matter. In the course of the event, Prof. Dr. Laura Baudis of the University of Zurich will also talk about future efforts to prove this in her public lecture "The Hidden Side of the Universe - In Search of Dark Matter."
What: Lecture


When: June 4, 2019, 7:30pm


Where:
Collegiate building II
Lecture hall 2004
Platz der alten Synagoge 1
79098 Freiburg


The event is open to the general public.


Host: Institute of Physics


Contact information: patras@physik.uni-freiburg.de


No registration is required.


The event is free of admission.


The event will be held in German.