The Rector's New Year address
Joint event for three interdisciplinary sponsorship associations at the University on January 16, 2018
Freiburg, Jan 02, 2018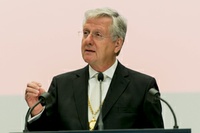 Hans-Jochen Schiewer. Photo: Patrick Seeger
Rector Prof. Dr. Hans-Jochen Schiewer will report on the University of Freiburg's current status and future direction during his New Year address. The three interdisciplinary sponsorship associations at the University – Alumni Freiburg, Verband der Freunde der Universität Freiburg (Friends of the University of Freiburg association) and the Wissenschaftliche Gesellschaft Freiburg (Academic Society of Freiburg) will hold a reception after the ceremonious New Year's pretzel cutting.
What: New Year address and reception


When: January 16, 2018, 7pm


Where:
Paulussaal
Dreisamstraße 3
79098 Freiburg


Journalists are warmly invited to attend.


Host: Alumni Freiburg e.V., Verband der Freunde der Universität Freiburg, Wissenschaftliche Gesellschaft Freiburg


Contact information: Rudolf-Werner Dreier, + 49 (0) 761/203-4300


Pre-registration is required by January 15, 2018.


The event will be held in German.