The threats to democracy
Lecture by Bundestag President Wolfgang Schäuble for the series "100 Years of the Weimar Republic" on February 7, 2019
Freiburg, Jan 29, 2019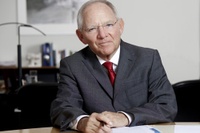 Photo: Laurence Chaperon
The Colloquium politicum at the University of Freiburg invites you to the final lecture of the series "100 Years of the Weimar Republic. Everything for the people. Everything through the people". Dr. Wolfgang Schäuble, President of the Bundestag, will give a lecture on the topic: "Berlin is not Weimar: On the Threats to Democracy". Schäuble has been a member of the German Bundestag since 1972 and is the longest-serving member of parliament. From 1984 to 1991 and again from 2005 to 2017 he was a member of the German Federal Government and held the posts of Minister of the Interior and Minister of Finance. Schäuble has been President of the German Bundestag since 2017. The Colloquium politicum has organized the event in cooperation with the Landeszentrale für politische Bildung Freiburg (Regional Center for Political Education Freiburg).
What: Lecture


Wann: February 7, 2019, 8:15pm


Where:
Collegiate Building II
Audimax
Platz der Alten Synagoge 1
79098 Freiburg


The event is open to the general public.


Contact information: Dr. Arndt Michael, Tel.: 0761/203-2001


Admission only with free admission ticket. A previous ticket reservation is not possible. Admission tickets are available on 07.02.2019 from 19:00 at both entrances to the Audimax. A maximum of two tickets per person will be issued.


For security reasons, all jackets, coats and bags must be handed in at the cloakroom before entering the Audimax.


The lecture will be held in German.