The wide range of symphonic music
End of the term concert by the Academic Orchestra Freiburg on February 3, 2019
Freiburg, Jan 22, 2019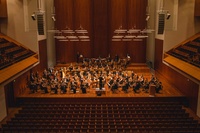 Photo: Academic Orchestra Freiburg
The Academic Orchestra Freiburg offers the possibility to experience the wide range of symphonic music at its concert at the end of the 2018/2019 winter semester. The program will include two symphonies: Franz Schubert's "Unfinished" D 759 in B minor and Dmitri Shostakovich's Eighth Symphony op. 65 in C minor. The orchestra has been conducted by Joonas Pitkänen since 2017.
What: Concert


When: February 3, 2019, 6pm


Where:
Konzerthaus Freiburg
Rolf Böhme Hall
Konrad-Adenauer-Platz 1
79098 Freiburg


The event is open to the general public.


Contact information: Christoph Brackenhofer


Tickets are available in advance via Reservix in several price categories from 13 to 29 euros, concessions from 8 to 20 euros.