Wall Talk: AI Banner at Freiburg University Library
Press conference at hoisting of banner on 30 July 2019, part of a project that unites street art and artificial intelligence
Freiburg, Jul 23, 2019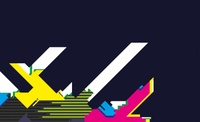 The project Researching City Walls: Artificial Intelligence and Street Art unites science and street art. Together, participants are designing motifs for five large-scale murals which will stimulate discussion at prominent sites in Freiburg city center. On Tuesday, 30.07.2019 at 7 p.m., a work by the artist Marc C. Woehr on the anti-glare banner for the facade of Freiburg University Library will be hoisted. The image was developed in cooperation with AI researcher Dr. Joschka Bödecker, junior professor of neurorobotics, and is part of the University of Freiburg's overarching project as part of the Science Year 2019 on Artificial Intelligence promoted by the Federal Ministry for Education and Research. Also present will be amongst others the Rector Prof. Dr. Hans-Jochen Schiewer, Freiburg's first mayor Ulrich von Kirchbach and the philosopher Prof. Dr. Oliver Müller. The key focus of the discussion is 'machine learning for the treatment of epilepsy'.


What: Public discussion at hoisting of banner


When: 30.07.2019, 7 p.m.


Where:
Mensagarten
Rempartstraße 18
79098 Freiburg


Anyone who is interested is welcome.


Organizers: Nexus Experiments, Exzellenzcluster BrainLinks-BrainTools, kulturaggregat e.V.


Contact information: Mathilde Bessert-Nettelbeck nexus@blbt.uni.freiburg.de, Tel: + 49 761 203-9504


No need to register.


Admission is free.


Lectures will be given in German.