Welcome to Freiburg
The University of Freiburg will welcome international students on October 5, 2018
Freiburg, Oct 01, 2018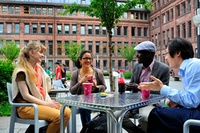 Photo: Thomas Kunz
The University of Freiburg awaits around 130 international students at its "Welcome Days" for the summer semester 2017. The University's International Office will welcome the newly arrived students with a program in which they will receive tips about life and studying in Freiburg. Dr. Juliane Besters-Dilger, Vice-President for Academic Affairs, will begin by greeting the international students.
Contact information: Atavi Yenke, + 49 (0) 761/203-9694


No registration is required.


The greeting will be held in German and English.