Attracting the Right Students to Freiburg
Mike Schwörer is responsible for higher education marketing at the University of Freiburg
Freiburg, Mar 08, 2017
Photo: Klaus Polkowski
The Student Service Center created a position for a higher education marketing officer in November 2015 to make the University of Freiburg known to prospective students. Sarah Schwarzkopf spoke with Mike Schwörer about his duties and plans.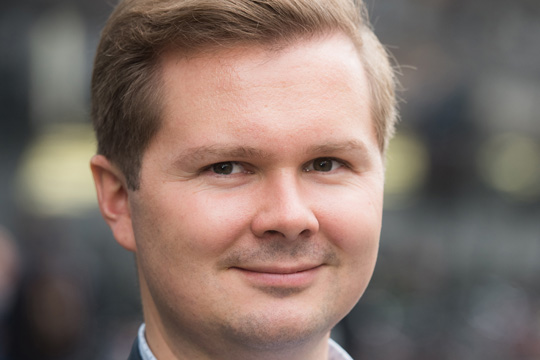 Mike Schwörer aims to attract prospective students with quality teaching and research. Photo: Klaus Polkowski
Mr. Schwörer, why does the university need to actively market itself to students?

Mike Schwörer: I try to attract good students to the University of Freiburg. We are especially interested in recruiting more international students and more females in the natural sciences, technology, engineering, and mathematics and in ensuring full enrollment in our degree programs. On the one hand, we provide information on the fields of study we offer to help prospective students make a good choice. On the other hand, we address the relevant target groups directly. The goal is therefore less to attract more applications than to attract the right ones: from prospective students who are capable of outstanding achievements and are ideally suited for the field of study in question.
How do you reach these target groups?

It depends on the field. Some departments are looking for students with perfect grades on their school-leaving certificate – a much sought-after group that can be addressed via foundations. Others are interested in artistic types, people with a wide range of interests, or people with a talent for languages. I look for these students at organizations that offer school students additional qualifications. There are also departments that are interested in international diversity and want to attract students from abroad.
How do students decide to study in Freiburg rather than elsewhere?

Say you have good grades on your school-leaving certificate and want to study somewhere but aren't sure exactly what. There are hundreds of fields of study and universities to choose from. The key thing when you first start looking is what you stumble upon. Here I work with classical advertising. Then, to help prospective students narrow down their choice, I put together material that allows them to compare us with other universities. What counts here is above all the high quality of our teaching and infrastructure, as well as our excellent reputation as a research university. Once they have narrowed down their choice to just a few universities, the important thing is to be likeable. We're at an advantage here in Freiburg in this regard: with our small city, with the nearby Black Forest and Alsace, with the good Baden cuisine. Also important at this stage is to meet with the prospective students in person.
How do you support the individual academic departments?

I help the administrators to find efficient ways to make their course offerings known. In 2017 I'll be offering workshops to develop individual strategies with them. I also work together closely with students. For example, their contributions to social media provide an authentic look at what it's like to be a student.
Why don't you advertise the university as a whole rather than individual fields of study?

I do that too, but in Germany it really only makes sense to advertise the university as a whole in places like Berlin or Heidelberg. In Freiburg we need to focus on the departments and the quality of teaching and research. That's where the university's main strengths are. As a rule, students do not decide to study in Freiburg but to study medicine or history. That's why the decentralized approach makes sense. The point is to convince students that the degree program – and thus Freiburg – is the right choice.
You studied political science. What brought you to higher education marketing?

I was already involved in marketing at the Alumni Department. My background in the humanities helps me to combine a focus on target groups with the academic cultures of the departments. A course of study is not a product – so you wouldn't get very far with a classical business approach.
http://www.studium.uni-freiburg.de/en
A fresh start can be so exciting! A film shows prospective students what awaits them at the University of Freiburg: Arrived At Freiburg