Award for Freiburg Ethnologist
Harry Schüler receives Stephen Crane Research Prize for dissertation on Iroquoian land reclamation
Freiburg, Oct 30, 2017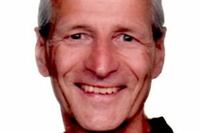 Harry Schüler. Photo: private
The ethnologist Dr. Harry Schüler has received the Stephen Crane Research Prize for North American Literary and Cultural Studies for his dissertation "Oneida Roulette" – zu einem außergewöhnlichen Beziehungsgeflecht zwischen indianischer Bevölkerung und Einwanderern im Staate New York" ("'Oneida Roulette': On an Extraordinary Network of Relations between the Native American Population and Immigrants in the State of New York"). Schüler's thesis deals with the connections between land reclamation, Native American casinos, and the cultural identity of the North American Oneida people. The prize is endowed by the University of Freiburg's Department of English and the town of Badenweiler and is awarded every two years for outstanding degree theses.
The Native American nation Oneida, which is part of the Iroquoian Confederacy, attempted between 1974 and 2014 to reclaim their territory in the State of New York. Schüler shows that the history of their former homeland is marked by conflicting laws, broken treaties, and a policy of divide and conquer in which the State of New York sowed dissent between the various Native American groups.
The Indian Gaming Regulatory Act of 1988 allowed the Iroquois to establish state-regulated Native American casinos in the State of New York. As Schüler demonstrates in his dissertation, this offer to establish casinos delayed the extrajudicial arbitration proceedings on land reclamation between the State of New York and the Oneida – the negotiations themselves became a game of chance for all involved Iroquois nations and non-Native American parties.