Vice President for international forest research comes from Freiburg
Daniela Kleinschmit joins the management team of the International Union of Forest Research Organizations
Freiburg, Oct 14, 2019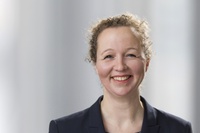 Daniela Kleinschmit. Photo: Jürgen Gocke
Prof. Dr. Daniela Kleinschmit is the new Vice President of the International Union of Forest Research Organizations (IUFRO). She will continue to support the organization in this position until 2024 and will lead it together with President Dr. John Parotta of the US Forest Service and second Vice President Prof. Dr. Shirong Liu of the Chinese Academy of Forestry.
IUFRO is a global network for forest science cooperation that has existed for 127 years. More than 15,000 researchers are organized in 700 member organizations in over 110 countries. IUFRO's nine thematically structured long-term divisions are its main foundation. Their coordination and communication are among the main tasks of the new Vice President, who was elected by the International Council made up of representatives of the member countries. Her term of office began with the last day of the five-yearly World Congress held in Curitiba, Brazil, in 2019. The University of Freiburg has a long tradition of voluntary work with IUFRO. Many scientists from the Faculty of Environment and Natural Resources are actively involved and perform various tasks.
Daniela Kleinschmit has been Professor of Forest and Environmental Policy at the Faculty of Environment and Natural Resources at the University of Freiburg since the end of 2014. She conducts research on national and international forest policies, such as illegal logging and cross-sector land use policies such as bieconomics. She is particularly interested in policy integration, i.e. the analysis of overlaps, conflicts and possible coordination between different sector policies. Furthermore, it is particularly committed to the exchange between science and politics at the various political levels. She will also continue this work in her capacity as Vice President.