Digitalization, European Elections, and an Open Mike
The "Studium generale" is starting its program for the summer semester
Freiburg, Apr 15, 2019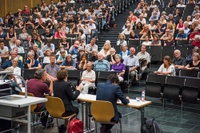 Photo: Klaus Polkowski
The University of Freiburg's "Studium generale" is again offering a range of lecture series, panel discussions, concerts, readings, and courses in the summer semester of 2019. The events give students, teachers, and members of the community an opportunity to gain interdisciplinary insight into different fields of knowledge.
This semester the "Saturday University" or "Samstags-Uni" is focusing on the digital revolution. What are the chances and risks related to it, and what choices will confront society in the future? Well-known speakers will answer these and other questions. Among the presenters is Prof. Dr. Armin Grunwald, who is head of both the Office of Technology Assessment at the German Bundestag and the Institute for Technology Assessment and Systems Analysis in Karlsruhe. The lecture series will begin on Saturday, 27 April 2019, at 11:15 a.m. with the lecture "Digitalization – What Is That Actually? Approaches to an Enormous Topic." ("Digitalisierung – was ist das eigentlich? Annäherungen an ein großes Thema") by Prof. Dr. Gerald Urban of the Department of Microsystems Engineering of the University of Freiburg.
The "Colloquium politicum" is providing opportunities to gain information about and discuss fundamental questions of German and international politics as well as current economic and societal problems with individual lectures, panel discussions, debates, lecture and film series, and tours. This year's program has also been shaped by the elections for the European Parliament. On 27 May 2019, the panel discussion "European Election Special: Europe has Voted" ("Europawahl Spezial: Europa hat gewählt") will concentrate on the results of the election. What is more, for the first time the "Colloquium politicum" is holding the "Freiburg Africa Talks" ("Freiburger Afrikagespräche"). A former cabinet minister, Heidemarie Wieczorek-Zeul, will deliver a lecture on the topic, "Europe and Africa: A Peace Project Based on Shared Interests and Values" ("Europa und Afrika: Ein Friedensprojekt auf Grundlage gemeinsamer Interessen und Werte") on 6 June 2019. Prof. Dr.  Tim Epkenhans of the Oriental Seminar will open the program on 29 April 2019, at 8:15 p.m. in Collegiate Building I with the lecture "Between Idealization, Populism, and Pragmatism: 40 Years of 'Islamic Revolution in Iran'" ("Zwischen Idealisierung, Populismus und Pragmatismus: 40 Jahre "Islamische Revolution im Iran"").
Two new types of event are making their premiere this summer semester as well. One is the "Youth University of Freiburg," ("Junge Universität Freiburg") which is oriented towards school pupils from 14 to 18 years old and in the ninth grade and up – particularly those who are preparing for university studies. That offering features eight lectures and begins on 3 May 2019. The other is "Sommerlese"/ "Winterlese." One time each semester the "open mike for authors" will give Freiburg student writers an opportunity to read their works aloud in front of a public audience. The reading project FAST │WAS open the first session on 2 July 2019.
"Studium generale" program (in German)
"Colloquium politicum" program (in German)
Youth University of Freiburg press release