The ways in which plants relieve stress
International conference at the University of Freiburg September 10-13, 2019
Freiburg, Aug 27, 2019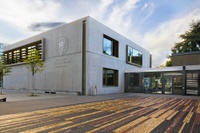 Institute of Biology II. Photo: Jürgen Gocke
How do plants react to environmental stressors such as heat or drought that climate change has brought about? Cells can reduce stress by degrading certain proteins and adapting the production of new proteins to changing environmental conditions. The balance between the synthesis, folding, modification and controlled degradation of proteins, known as proteostasis, will be the focus of a University of Freiburg conference at which around 80 plant researchers from around the globe will meet.
What: Conference


When: September 10, 2019 starting at 4pm until September 13, 2019 at 12:15pm


Where:               
Institut of Biology I
Lecture hall 1044 (2nd floor)
Hauptstraße 1
79104 Freiburg


Media members are warmly invited to attend.


Host: Institute of Biology II
Contact information:  Dr. Marco Trujillo Linke, Tel.: +49 (0) 761 / 203-2672


Registration via eMail is required.


The conference will be held in English.