In pursuit of independence
Podium discussion about the current situation in Catalonia on February 8, 2018
Freiburg, Jan 30, 2018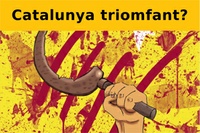 The Catalonians' desire for independence is one of the hottest topics in current European politics. On October 1, 2017, a controversial referendum on the independence of the region in northeastern Spain took place. Around 90 percent of all voters – with low voter participation – were in favor of secession. The central government called the referendum invalid. After calling for an independent republic, the central government overthrew the Catalonian government. During new elections in December 2017 the separatist parties gained a narrow majority. A podium discussion at the University of Freiburg will focus on the historic roots, but also on the opportunities and dangers of Catalonia's desire for independence.
What: Podium discussion with Prof. Dr. Ronald G. Asch and Prof. Dr. Jörn Leonhard from the Department of History, Dr. Claus D. Pusch and Anna Subarroca Admetlla from the Department of Romance Languages and Literatures as well as Prof Dr. Rolf Kailuweit, formerly from Department of Romance Languages and Literatures and now professor at the Heinrich-Heine-Universität Düsseldorf
When: Feburary 8, 2018, 6pm


Where:
Collegiate Building I 
Lecture Hall 1221
Platz der Universität 3
79098 Freiburg


The event is open to the general public.


Host: Department of History


Contact information: Sibylle Rupp


The event is free of admission.


A pre-registration is not required.


The lecture will be held in German.