Making sense of nonsense
Historian Wolfgang Reinhard offers insights for the series "Narrated Experience" on February 8, 2018
Freiburg, Jan 23, 2018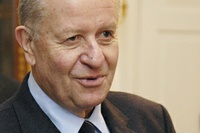 Wolfgang Reinhard. Photo: University of Freiburg
For a lecture series entitled "Narrated Experience" retired professors from the University of Freiburg will offer retrospective reports on their academic careers. Expertise, something that normally characterizes lectures at the University, will take a backseat to the life experiences they have had after decades at the University. A bit of University history will also come to life through their eyewitness accounts. Prof. Dr. Wolfgang Reinhard, who was professor for modern history in Freiburg, focuses on Europe in the 16th and 17th centuries. He pays special attention to the history of religion, the history of the modern state, historical anthropology and the history of European expansion. The historian's lecture is entitled "Making sense of nonsense. A second attempt." He talks about his time at the Universities of Augsburg (1977-1990) and Freiburg in particular.
What: Lecture


When: February 8,2018, 8:15pm


Where:
Collegiate Building I
Platz der Universität 3
Horst Weitzmann Lecture Hall 1098
79098 Freiburg


The event is open to the general public.


Host: Rectorate, Studium generale


Contact information: Gregor Kroschel, +49 (0) 761/203-4986


Pre-registration is not required.


The event is free of admission.


The event will be held in German.