Coaching for Careers
Pilot Project CORA Supports Young Women Researchers in Getting Leadership Positions
Freiburg, Mar 15, 2018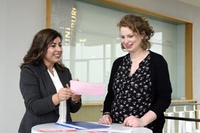 Photo: Thomas Kunz
Getting more women researchers into long-term university leadership positions: The second round of the "Coaching Women for Research and Academia" (CORA) program is starting this summer. Women researchers from all disciplines except medicine may apply until 30 April 2018.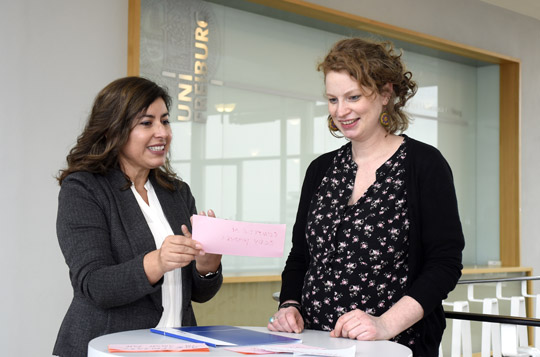 "CORA provides decisive career direction," says CORA coordinator Mariana Vargas Ustares (left) – Franzisca Zanker has taken part in the program and is positive about the support it offers.
Photo: Thomas Kunz
Dr. Franzisca Zanker says she is perfectly satisfied with her academic career up to now. A year after she received her Ph.D. in 2015, she took up a position at the Arnold Bergsträsser Institute. There, the political scientist has been leading the "Flight and Migration" research program. Yet Zanker's job has its drawbacks. "Now I'm experiencing how time consuming administration and committee work are," she sighs with a laugh. "I need to see to it that I still have time to research and publish," she adds. Besides, her contract is for a limited time period. What will she do next? Because Zanker isn't the only researcher facing questions like these, the University of Freiburg created the CORA program in 2017. The abbreviation CORA stands for "Coaching Women for Research and Academia." Zanker is taking part in the first round of the program. The second round will begin this summer. Starting in April 2018, women researchers from all disciplines except medicine may apply.
"CORA's aim is to get women into long-term university leadership positions," explains Mariana Vargas Ustares of the Office for Gender and Diversity (G+D). G+D initiated the program together with the rectorate, with G+D continuing to handle organization and coordination. The three year pilot model is based on the observation that although as many women as men receive doctorates, the proportion of women who continue in academic careers decreases rapidly thereafter.
Ten to fifteen sessions
"Academic careers have long been relatively insecure," explains Vargas Ustares. "And women are simply not encouraged to take up and continue on an academic career path as often as men are," she says, adding that the small number of female role models in leadership positions reinforces this. In order to change that, every woman taking part in CORA receives ten to fifteen sessions with a coach. These are aimed at furthering the development of the researcher's academic career. Joint workshops and setting up a network of female academics round off the program. Participation is free of charge. "Not many German universities offer programs of this type," says Vargas Ustares proudly.
Dr. Simone Cardoso de Oliveira is one of the program's coaches. Like all of her CORA counterparts, she knows the workings of academia inside and out. "I have more than thirty years of experience at universities," explains the doctor of neuroscience. She knows exactly what young women's needs and questions are. Cardoso describes how coaching takes place: "In the first session, the client and I define her personal goals, together – handling self-doubt, for example." Cardoso has observed that lack of self-confidence impedes many women from making progress in their careers. "Then we work out together how many sessions will be dedicated to achieving this goal," she says. Once the goal has been achieved, then they begin pursuing more aims in the next phase.
Independently finding solutions
During the sessions, Cardoso likes to work with symbols. She explains, "With things, for example, that embody a certain characteristic or behavior. These work at a deeper level than something that's just been addressed rationally and intellectually." What's even more important to her is that she doesn't provide the women with any solutions. Says Cardoso, "I support them along the way to finding solutions for themselves."
Mariana Vargas Ustares is upbeat. She says, "CORA provides decisive career direction." Yet the women taking part must be proactive. Vargas Ustares continues, "Just showing up isn't enough. Real work actually has to be done first, but it pays off." Franzisca Zanker can confirm that. She is now better able to handle teaching, administrative work and research all at once – and she's looking forward to the next workshop – voice training with the aim of making public presentations less nerve-wracking and more powerful and expressive. And she is even happier about the fact that her second child is due in May. "Of course, it's another career challenge," she says, one her coach will support her in facing.


Mathias Heybrock
Applying for CORA

The Coaching Women for Research and Academia (CORA) program is directed at young, female researchers from all disciplines – with the exception of medicine – who are in the final third of their doctoral studies, as well as group leaders and junior professors. There are ten places available each year. If more than ten women apply, participants are chosen in a drawing. The application period is from 15 March until 30 April.

www.diversity.uni-freiburg.de/coaching-programm