Me, Myself and I
An exhibition shows portraits of Freiburg students – Can you see yourself?
Freiburg, Feb 03, 2020
At the institutes, in Café Europa, at the Faculty of Engineering: The artist Evelyn Höfs drew pictures of students in all these places, using her tablet computer. These colorful portraits are on display on the ground floor of the university library to 19 March 2020. Höfs says the exhibition is an "homage to the student town of Freiburg" – but will the models recognize themselves in the images? Franziska Heinzler asked two of those pictured.

Drawing: Evelyn Höfs, Photo: Harald Neumann
"When Evelyn was drawing me, I was being watched from all sides; we were in a public space. I found it a little bit embarrassing. And it was tiring, too, to sit still for 75 minutes. On top of that, I didn't know what the portrait would look like until the end. If I stand back a bit, I can certainly see a likeness. But if I look a bit closer, it's more difficult. For instance, I don't think the face is that great, but I couldn't have done it better myself. But the artist did everything from the neck down very well. The position of the arms, the proportions, the legs, the jeans, the upper body and the sweater: I recognize all these parts of me. It's just the face – there's too much shadow for my taste, and the nose is a bit crooked."
Julien Acs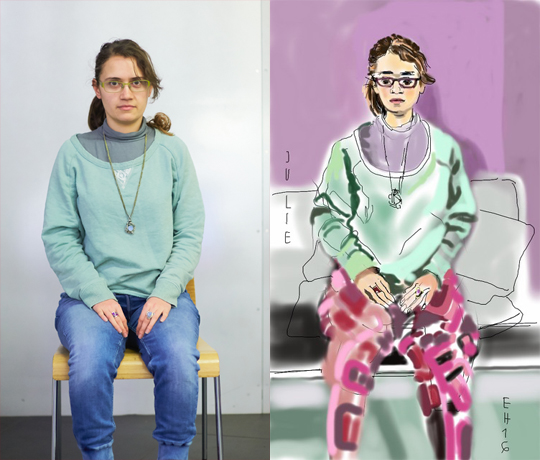 Photo: Harald Neumann, Drawing: Evelyn Höfs
"It felt very nice to have my picture drawn. I thought it was great that I basically had the official order to sit still and do nothing. During that time I observed the other people around me, and Evelyn too. She looked me straight in the eyes, and I looked back. That exchange was a good experience. The clothes and the colors, the rings and the chain all turned out well, but I don't see myself in the face. At first, the expression was very strange to me. I thought I seemed intimidated, even though I actually felt very relaxed during the sitting. But when I look closer and deeper into the picture, it seems different. It is a true likeness."
Julie Lucas
ca2d427d842e492d3e7a75bc05d33595